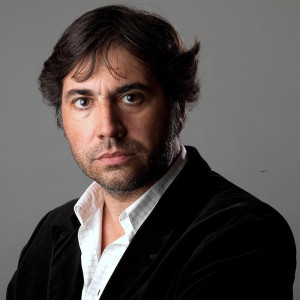 C'est à Genève, où il est né en 1967, que Nicolas Righetti vit actuellement. Il est membre de l'agence Lundi13.ch depuis sa création. Après des études en sciences sociales, il suit les cours de l'École supérieure d'Art Visuel de Genève en section cinéma. Ses études terminées, il se consacre à la photographie. Il travaille alors pour de nombreux journaux suisses tels que L'Hebdo, Le Temps, SonntagsBlick, et internationaux comme La Repubblica, Newsweek, The New Yorker, The New York Times.
Ses voyages à travers le monde, notamment en Asie, éveillent en lui un intérêt croissant pour les figures politiques mégalomanes et totalitaires. Il effectue plusieurs séjours dans les dictatures et développe un traitement stylistique original, qui prend le décorum du pouvoir à son propre jeu. Il se rend à quatre reprises en Corée du Nord, de 1998 à 2001, et réalise le film Visite guidée en Corée du Nord, récompensé par le Prix à la qualité de la Ville de Genève. Parallèlement, il réalise le livre Le Dernier Paradis en Corée du Nord (éd. Olizane, Genève, et éd. Umbrage, New York, 2003). Ce travail photographique sur la mise en scène du pouvoir est récompensé par le premier prix Swiss Press Photo dans la catégorie « internationale » en 2004. De 2005 à 2006, il effectue trois voyages au Turkménistan, où il s'intéresse à l'iconographie démesurée de son dictateur omniprésent Saparmourat Niazov. Ses images composent le livre Love Me Turkmenistan (éd. Labor et Fides, Genève, et éd. Trolley, Londres, 2007) et lui valent, en 2007, le premier prix World Press Photo, dans la catégorie «portrait story». En 2009, à l'occasion du 500e anniversaire de la naissance de Jean Calvin, Nicolas Righetti photographie quarante homonymes du Réformateur sur les cinq continents. Ce travail a été publié dans le livre Calvin World (éd. Labor et Fides, Genève, 2009) et nominé au prix EWZ Sélection (Zurich, 2010). En 2012, il publie L'avenir en rose, recueil de photographies d'affiches de Bachar al-Assad en Syrie (éd. Work is progress, Paris, et éd. Trolley, Londres) qui lui valent, la même année, le prix Nicolas Bouvier.
Les travaux de Nicolas Righetti ont été exposés au Musée des Confluences de Lyon, au Centre de Culture Contemporaine de Barcelone, au Musée du Design de Zurich, au Musée Neuhaus de Bienne, au Musée Kunst Haus de Vienne, au Musée international de la Réforme de Genève, au FoMu FotoMuseum Antwerpen d'Anvers et au Centre national de l'Audiovisuel (CNA) du Luxembourg.
---
Nicolas Righetti was born in 1967 in geneva, where he currently lives. a founding member of the Lundi13.ch photo agency, Righetti has worked for a number of swiss publications, including L'Hebdo, Le Temps and Sonntags Blick, as well as for such international publications as La Repubblica, Newsweek, The New Yorker and The New York Times.
his travels around the world, especially in asia, triggered a growing interest in megalomaniacal and totalitarian political figures. he has made several trips to dictatorships and developed an original stylistic treatment of his subjects, catching the decorum
of power at its own game. he travelled to North Korea four times between 1998 and 2001. his film, Guided Tour of North Korea, won the Quality Prize from the city of geneva. at the same time, he released the book, The Last Paradise North Korea (olizane, geneva, and umbrage, New york, 2003). this photographic work on the show of power won first prize at the 2004 swiss Press Photo awards in the international category.
Between 2005 and 2006, Righetti made three trips to turkmenistan, where he examined the excessive iconography of its omnipresent dictator, saparmourat Niazov. his images were featured in the book, Love Me Turkmenistan (labor et Fides, geneva, and trolley, london, 2007), earning him first prize at the 2007 World Press Photo awards in the "portrait story" category.
in 2009, to mark the 500th anniversary of the birth of John calvin, Righetti photographed 40 people with the same name as the Reformer on five continents. this work was published in the book, Calvin World (labor et Fides, geneva), and nominated for the eWZ selection award (Zurich, 2010). in 2012, he published Yes to a Rosy Future, a collection of photographs of Bashar al-assad posters in syria (Work is Progress, Paris, and trolley, london), earning him the Nicolas Bouvier award.
Righetti's work has been exhibited at the Musée des confluences in lyon, the contemporary cultural centre in Barcelona, the Museum of design in Zurich, the Neues Museum in Biel, the Kunst haus Museum in Vienna, the international Museum of the Reformation in geneva, the FotoMuseum in antwerp and the National audiovisual centre in luxembourg.
Emission radio Vertigo, RTS La Première, 42 minutes, 29.08.14